Yesterday was my Mother's birthday, and this was the card I made to include with her gift. I absolutely adore this Vintage Flowers stamp set from Altenew, and tried to make the image panel look like wallpaper. Specifically, some wallpaper that I remember from my grandmother's house.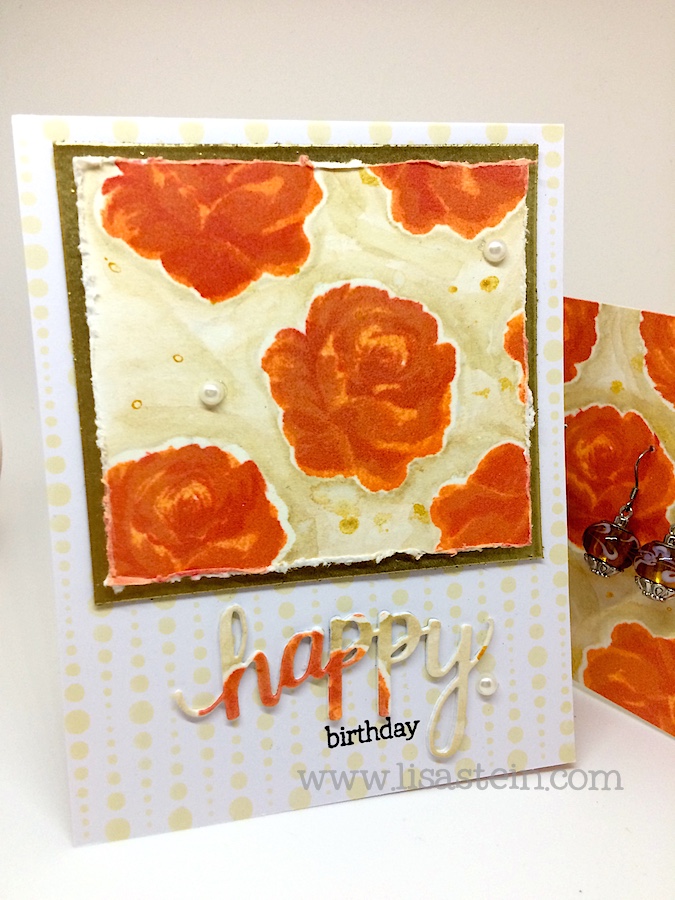 First, I stamped the rose images. I used Fresh Peach, Cantaloupe and Pale Tomato inks from Hero Arts. Which amused me, because of the fruit themed color names. My mom is a fan of the color peach, and hails from Georgia, so it's a win-win with that color for her birthday card.
Once those were finished, I grabbed the coordinating dies for this stamp set and cut out the large flower from a piece of post it paper. I placed that over the flowers and used my versamark pad direct to paper to cover the flower with ink. Added some clear embossing powder and then heat set the entire piece of watercolor paper.
I allowed that to sit for a bit to cool, then used Distress ink to make the background seem aged. I tried a few colors and found that Antique Linen and Old Paper were most to my liking, and recollection of the inspirational wallpaper. I had the markers with me and just scribbled them onto an acrylic block and used a watercolor brush to apply to the paper until I achieved the effect I wanted.
Then I dribbled some Hero Arts gold spray all over this piece. When that was dry, I actually ironed off all of the embossing. I'd just clear embossed over the flowers to protect them from my watercolor efforts, and also to make the whole process easier for me. I've never ironed off embossing before, and I have to say, I LOVED it. Super fun. Try it.
To finish up the flower image I took some scrap white cardstock, applied versamark to the edges, and used gold embossing powder to make gold cardstock. Added some pearls, distressed the edges of the paper, and that panel was complete.
I used a new Hero Arts background stamp and their vanilla ink to make a subtle background on my card base. Love this stamp, and will be using it a ton, I'm sure. Since I'd cut down my flower panel, I had some extra and decided to use it to die cut the Happy sentiment.
Last but not least, I used the remaining watercolor paper as a display piece for the gift I sent my mom. A few pairs of earrings, so just a simple hole punch in the panel, and slide the earrings through. It coordinates, and I got to use every piece of that paper, which makes me happy.
I hope this card has inspired you to play around with your stash and all of those techniques that we see others do; it really is fun and so educational.
Don't forget, we've got our first challenge still going on, and it's all about Embossing! Come join the fun, our fantastic sponsor, Simon Says Stamp is offering up a $25 gift certificate. So many fun new products have come out recently, you know you want to do some shopping. 🙂